The class lasted only 6 weeks or so and culminated in a performance at the local high school auditorium, mostly for our parents who had paid for the whole thing. I played a solo of "MockingBird Hill" on the "Hawaiian" guitar. The room went crazy and I was hooked on the attention I was getting. And I never forgot the enormous emotions one experiences from the stage. I was not yet ready to stop playing even though the class was ending.

Since no new classes were starting, I convinced my Mom and Mrs. Chase to let me keep the guitar for a few more weeks. Eventually I had to give it back, but my interest in my Uncle's guitar was now stimulated. I knew nothing of the dollar value of his or any other instrument for that matter but he was kind enough to let me plunk away on it until I finally figured out (with his help) how to tune it to standard rather than open tuning. THEN, I figured out how to position my fingers in such a way as to make chords that sounded like the ones more easily achieved by moving the slide up and down the neck on the old, open tuned, instrument.

Within a year of my first lesson, I not only had figured out the major chords, but the minors as well, which at first I thought were mistakes, as with the open tuned slide guitar, minors were not possible without special tuning. The real point here as it concerns Children and Music, is that not once during that time did my parents participate or ask me to practice. In fact they were somewhat concerned that my sports and other outdoor activities were beginning to suffer. They never bugged me to play. Eventually after a few months I got bored with the guitar and went back to other interests, but only for a short while.

In the summer of 1955, my Dad came home from work one day to announce he'd had it with all the over-crowding in Anaheim and had decided to move us back to Albany, Georgia, an area he'd spent time as a kid. I was not happy (Jeez, Anaheim was mostly orange groves, hardly over crowded, AND Disneyland was just opening - my father had clearly lost his mind). He bought my Mom a new yellow Plymouth Sports Suburban station wagon as a bribe (and to make the trip more feasible) and promised me pretty much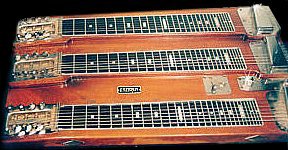 whatever I wanted once we arrived in Albany. As we were going to live in the country and I already had a great bike for dirt roads, I asked for a guitar.
Now my parents were a pretty gregarious sort and soon after settling in Albany, began hanging out in the music and dance saloons (dives, if truth be told) that were plentiful in the area. There were some incredibly talented musicians there so my Dad, remembering his promise to me, got me a guitar. Now my Dad rarely did anything conservatively, so one night he woke me up when they arrived home from the "Red Barn" and presented me with a triple neck Fender steel guitar. (Exactly like the one at right). I guess, even though the musicianship was impressive in the area, the wages of such endeavors were not, so that night he'd hooked up with a starving steel guitarist, named Eddie Dudley, who needed some scratch and had too many guitars. (Sound familiar?) This amazing looking instrument that, by the sheerest of coincidence, fell into my hands (covering my body as well - it was huge) came with an old tweed Fender amp and a friendship with Eddie, that lasted many years. Within a few months I was playing with Eddie's band at the Red Barn, as essentially a "novelty" part of the show. I made three dollars a night which kept me stocked with Atomic Fireballs quite nicely. Fate is a funny thing. Perhaps I would never have returned to music had it not been for that fortuitous night that my Dad bought the guitar. Neither of my parents were musical other than having a real appreciation for it. Several months of playing Fridays and Saturdays at the Barn resulted in my next "present", a 1956 Fender Telecaster my Dad got for little more than the price of a good Stetson hat.
There is a point to this rather long, sloppy slice of biography - its a'comin. After I relearned the chords I'd previously developed on my uncle's Martin, I progressed on the Tele rather quickly. It was a time of three and four chord 50's pop music and I found this format much more interesting than the more country sounds of Steel Guitar Rag, and Boothill Drag I had become proficient with on the steel. However even with all the great music of the era and a considerable head start to becoming a very good player, I, within a couple more years gave it up for horses, girls and baseball. I still played some, especially when Eddie would show up. He, even by then, couldn't have been more than 23 or 24, had a fast car and liked to take me places with him. I couldn't resist hanging with the big guys but still I played only on occasion. And that's the point. I was never solely DEDICATED to music. I did it only when it was fun and there were a lot of other fun things to do.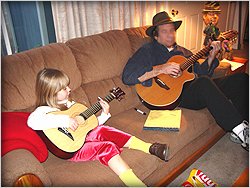 So you moms and dads, aunts and uncles, and grandparents reading this, relax. Let the kids come to the music when it is fun for them to do so. Make it available, but don't push. Later on in high school I returned to the guitar, now back in California and had a pretty successful surf band, the "Chevelles." I made a very comfortable living for several decades, playing during college, and as my sole profession after ending my "drafted" participation in the US Army in 1971. Music was never my LIFE, even then. It was an important part and my sole profession, but there were, and continue to be, many other interests. I always had time to play baseball, backpack, ski, surf, read, write, experiment with computers, play golf, table tennis competitively, and many other things I found and still find rewarding, including writing this magazine. There are those disciplined few that become true masters of music from a very early age but I neither envy them nor regret my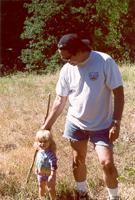 diversity of interests. The fact is, music is a human contribution to the world and I see great difficulty in expressing this most human endeavor creatively, from the limiting experience of any single point of view.
Get your young ones a musical instrument. Not a toy, but don't go crazy. Let them play - after all that is why its called PLAYING. If they decide to get serious about it, the whole world will benefit and you will be their hero. Force them and they will likely get nowhere and resent your "good-intentioned" attempts for a long time to come.
My little six year old grand daughter, McKinley, (the visual subject of this particular piece) has taken to the guitar. I gave her a nice little steel string (pretty cheap) that I set up in open tuning so she could use one of my old glass slides to play songs immediately. She didn't have to learn the frustration generating fingering positions and, at six years of age, already understands the relationships of chord theory. She understands what a "bluesy" sound is and how to get it. She doesn't know she understands it any more than kids raised with computers "understand" that they know more about them than a great many adults. It remains a very natural process for her, just like kids who learn to ski as soon as they can walk. She knows what works and what fits with her simple but eerily unique melodies. She's already trying to write songs. She is quite prolific with lyrics. More fairies and princesses than I care for, but on occasion she will delve into the world of sewer rats and "Monster Babies" repleat with some pretty interesting socio-political inuendo. Some songs take a long time to finish, some never get completely written. She loves TV of course and is allowed to watch Disney and other kid channels at my house as long as she has her guitar with her. Sometimes she barely plays - simply holding it on her lap, sometimes she gets so involved with playing that she completely forgets about the TV program. We play together a lot. The little I actually watch televison in the living room, I usually have a guitar in my hands anyway. This is becoming her habit as well. She is learning fast without any pressure and without the horrible barriers the words learn and practice unfortunately can erect in the young. I, of course will occasionally make suggestions and answer any and all guestion she poses but I never try to "teach" her. In other words, there is no academic rigor associated with our time playing together.
It is irrelevant to me whether she becomes an accomplished musician or not. If she does, it will be a journey taken from pure joy, and that IS VERY important to me, as it will be to the rest of the planet she shares.
From time to time, I' ll keep readers updated as to her progress and perhaps even share some audio/video in the future of her playing. Or not. Whatever SHE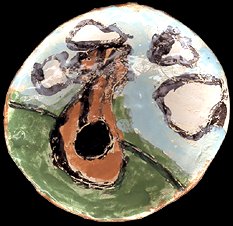 wants.
Well McKinley is still not ready to share her playing with audio and video Grampa Dougie, but it was my birthday recently and this (at right) is what she made for me. What makes this piece (a 6" diameter ceramic plate) of most interest to me (besides the fact that her little hands fashioned it out of clay, painted it with ceramic paint and then put it in the kiln) is that when I asked her what it was, she put her hands on her hips and announced, "Jeez Grampa, its a guitar!" Well I suppose it was a stupid question on my part but I, at first, just didn't get it. After I foolishly made my second mistake and told her I didn't recognize it as a guitar, she patiently (very kind on her part, thank you) went on to explain that it wasn't 'posed to be an actual picture of a guitar. She, instead, was attempting to create her impressions and feeling of the sound and overall ambience (my word - not hers) of an acoustic guitar. She said the sound hole was disproportionately (my word also) large since that is where all the sound comes out and the neck and strings sort of bend away up into the sky and clouds as that is where all the magic happens. Boy, did I feel dumb and not at all hip to art. The fact is, what she created was an impressionist's view of the magic of the instrument worthy of the Picasso school of weird, but often incredibly insightful ART. If she continues to think of the instrument in such magical ways, who knows what magic those still little fingers may one day produce. Thought I'd share this with you as you worry, in your grown up ways, over how much to spend on a guitar and who makes good ones and who doesn't. The fact is, in the right hands they are all magic, some perhaps less than others, but magic nonetheless. And magic, as is beauty itself, is in the absolute eye of the beholder. Santa Claus, The Easter Bunny, The Great Pumpkin, and Picasso. What a group for a session. I hope it remains always so - to all of you and your offspring who shall descend.